Grow your cookbook collection and stock your pantry!
Join other cookbook lovers and subscribe now to receive a curated box delivered to your door once per quarter. Get one recently released cookbook, along with five or more full-sized specialty ingredients carefully chosen to complement your new cookbook. Each quarterly box costs $85 and includes free shipping.


The Vegetarian Box: for the cook who embraces a plant-based way of eating
The Vegetarian Box features a diverse assortment of cookbooks that have a vegetarian or vegan focus. Paired products are always strictly vegan.
FEATURED BOOKS
Prefer to prepay or giving as a gift? See our Gift Subscriptions page.
SUMMER 2021 - SHIPPING NOW
TO ASIA, WITH LOVE: EVERYDAY ASIAN RECIPES AND STORIES FROM THE HEART
by Hetty McKinnon
For bestselling cookbook author Hetty McKinnon, Asian cooking is personal. McKinnon grew up in a home filled with the aromas, sights, and sounds of her Chinese mother's cooking. These days she strives to recreate those memories for her own family—and yours—with traditional dishes prepared in non-traditional ways. It's a sumptuous collection of creative vegetarian recipes featuring pan-Asian dishes that anyone can prepare using supermarket ingredients.
Readers will learn how to make their own kimchi, chilli oil, knife-cut noodles, and dumplings. They'll learn about the wonder that is rice and discover how Asian-inspired salads are the ultimate crossover food. McKinnon offers tips for stocking your modern Asian pantry and explores the role that sweetness plays in Asian cultures. Her recipes are a celebration of the exciting and delicious possibilities of modern Asian cooking—from Smashed Cucumber Salad with Tahini and Spicy Oil, and Finger-lickin' Good Edamame Beans with Fried Curry Leaves, to Springtime Rolls with Miso Kale Pesto and Tamarind Apple Crisp. Featuring big, powerful flavours created from simple, fresh ingredients, these recipes are firmly rooted in the place where east meets west and where tradition charts the journey to the modern kitchen.
Box contents include:


To Asia, With Love cookbook with a signed bookplate by Hetty McKinnon

Mama O's Kimchi Paste, Vegan

An assortment of spice packets from Oaktown Spice Shop to make Hetty's "Everything Oil"



Red Pepper Flakes

Gochugaru

Szechuan Peppercorns

Star Anise

Cinnamon Sticks

Sea Salt


Fermented Black Beans
Spicewalla Five-Spice Powder
Soba Noodles
Handmade Dumpling Roller by The Knotty Dane
SPRING 2021
VEGETABLE KINGDOM: THE ABUNDANT WORLD OF VEGAN RECIPES
by Bryant Terry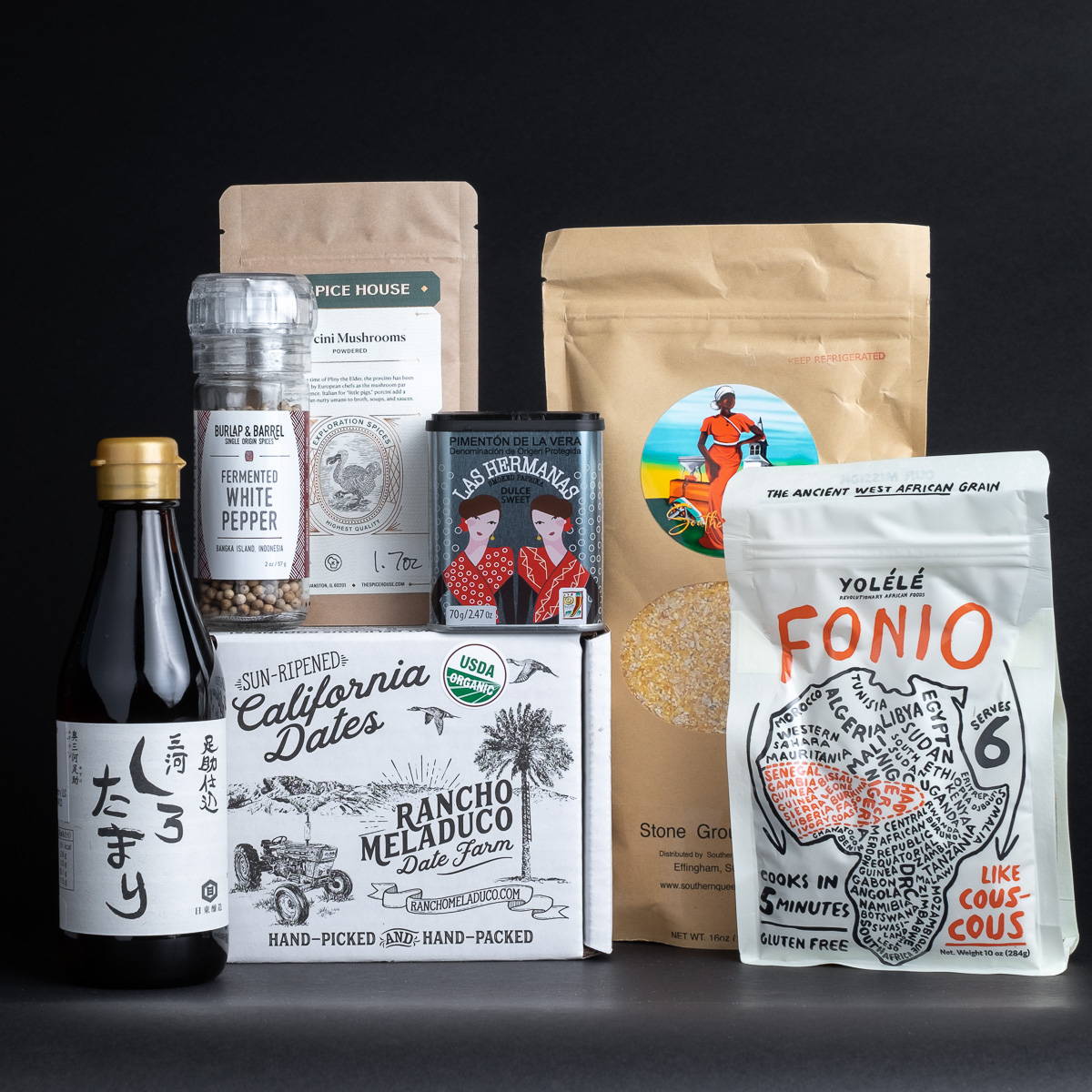 Discover vegetables like you've never known them before. Bryant Terry showcases vegan cooking in new and thrilling ways. He shows you how to transform fresh ingredients into a cupboard of flavor-packed homemade sauces, spreads, and seasonings that are used in more than 100 vegetable-centric recipes.
Box contents include:
Vegetable Kingdom cookbook
Southern Queen Foods Stoneground Yellow Grits
Yolélé Fonio
Nitto Jozo White Tamari
Spice House Porcini Mushroom Powder
Burlap & Barrel Fermented White Pepper
Las Hermanas Pimenton de la Vera (Sweet)
Rancho Meladucco Organic Dates
★ ★ ★ ★ ★
"So impressed with the ingredients and the gorgeous cookbook! Can't wait to try some of the recipes! Also very excited what our next box might bring!"
Sarah P.
★ ★ ★ ★ ★
"Incredibly well put together and thought out Subscription box. Especially for those looking to diversify their cookbook collection and pantry shelves!"
Kendall D.
★ ★ ★ ★ ★
"My Hardcover Cook subscription has been great! The food items are nice and are adding new flavors to my pantry. And I never thought I'd make Japanese cuisine — it seemed out of reach, but this box made it feel approachable (and it turns out, it is!). I look forward to the next one."
Rae T.
Add fresh titles to your bookcase.
Each quarterly box will contain one recently released cookbook, along with ingredients that pair with your new book.
Save yourself a trip
to the specialty store.
Your box will contain five or more artisanal ingredients selected to enhance your experience with the book.
BOXES DELIVERED
EVERY 3 MONTHS
A new assortment delivered to your door.
Cook your way through each cookbook for an entire season then receive a new box, right on schedule.
Your price is $85 per quarterly box and includes free shipping.
You will be charged for your first box at the time of sign-up. Subsequent charges will be initiated every three months. You will receive an email notification to alert you a few days before your card is charged. Skip, swap, pause, or cancel your subscription at any time. Make changes on the "manage subscriptions" button on your account page.
New boxes become available during the following months. We'll email you ahead of time to let you know what to expect and when.
Spring Boxes: Starts shipping March 1st

Summer Boxes: Starts shipping June 1st

Fall Boxes: Starts shipping September 1st

Winter Box: Starts shipping December 1st
*Hardcover Cook provides a subscription service. By subscribing to our service, you have confirmed that you accept our Terms of Service. Your membership will automatically renew on a recurring basis, at which time your credit card will be charged automatically for the subscription products, including applicable taxes, until you cancel your membership. You may cancel your membership at any time by logging in to your account, selecting Manage Subscriptions, View Details, then clicking Cancel Subscription button at the bottom of the page.