In Ottolenghi Flavor, Yotam Ottolenghi builds on the popularity of his previous plant-based cookbooks. This time, he lays out the three key factors that can be mastered and manipulated to achieve bold new levels of flavor: Process (preparation methods to boost flavor), Pairing (utilizing sweetness, fat, acidity, and spiciness to add boldness and balance), and Produce (highlighting a handful of powerhouse ingredients that add depth of flavor to any dish). He introduces readers to co-author Ixta Belfrage, a chef from Ottolenghi's test kitchen, who lends her creative brilliance and expanded pantry.
While Ottolenghi's past titles primarily featured the flavors of the Mediterranean and Middle East (he's largely credited with popularizing products such as harissa, tahini, Aleppo chile), this new book travels beyond those past essentials and stars ingredients and flavors from Mexico, Asia, and beyond. Make room in your pantry for dried chiles, masa harina, fish sauce, miso, and more.  
Publication date: 10/13/20
---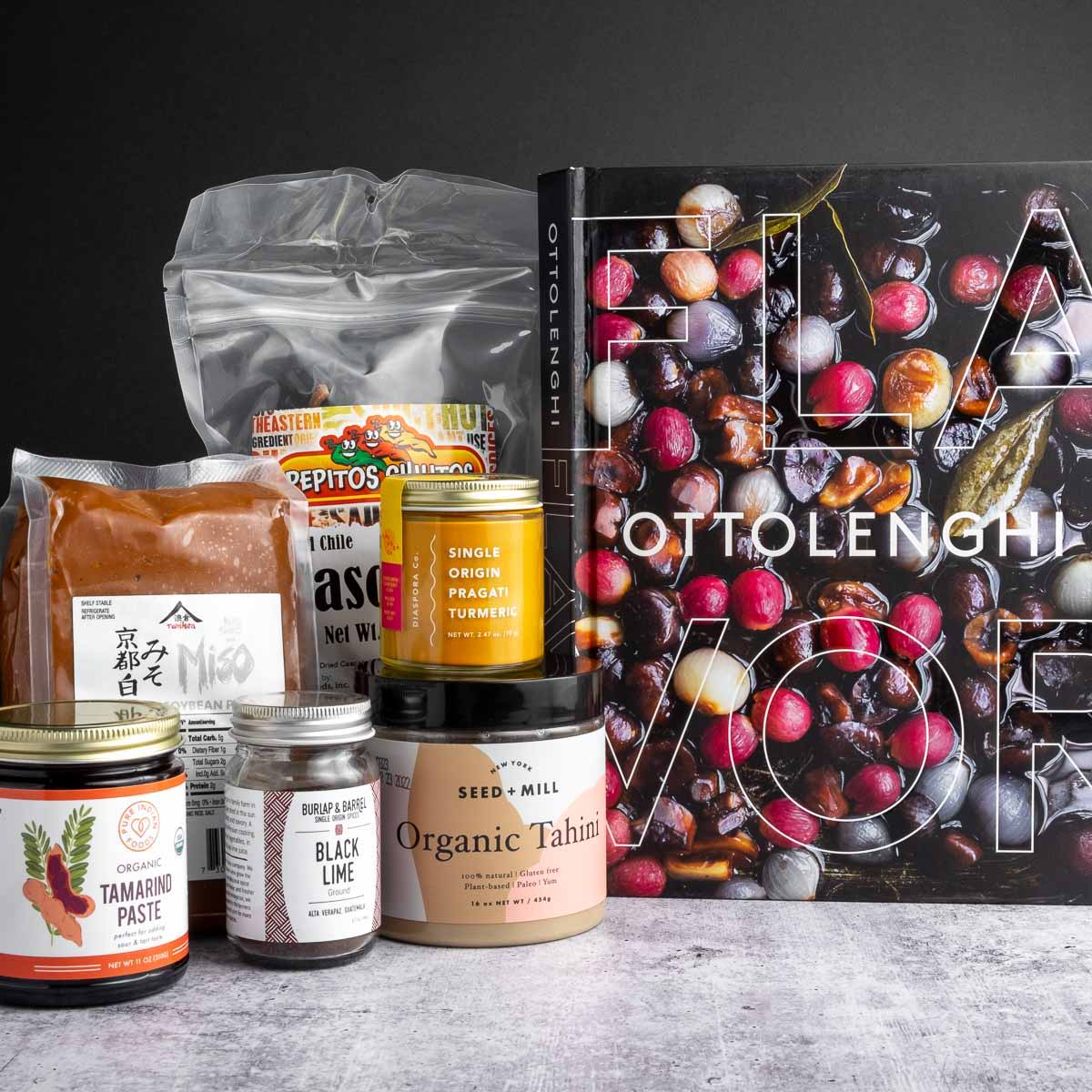 We've curated an assortment of products to help you explore the three core concepts of the book and build out your own international pantry.
Contents include:
---
MORE ABOUT THE BOOK & AUTHOR
Description from the publisher
The New York Times bestselling author of Plenty joins up with the Ottolenghi Test Kitchen's Ixta Belfrage to reveal how flavor is amplified in more than 100 innovative, super-delicious plant-based recipes.

Yotam Ottolenghi–the beloved chef and influencer who has captured the hearts of home cooks looking for inspiration and great-tasting vegetable cooking–is back. In Ottolenghi Flavor, Yotam collaborates with longtime colleague Ixta Belfrage to identify the principles behind his stylish, innovative brand of cooking with a new collection of revolutionary plant-based recipes. Yotam and Ixta build on the vegetarian cooking that made Plenty and Plenty More phenomenal bestsellers, this time adding Italian and Mexican influences and revealing how to understand, build, and amplify flavor through more than 100 vegetarian recipes (half are also vegan). In essence, Yotam and Ixta show how to evolve creatively, be intuitive in the kitchen, and become ever-better cooks through the "three P's":

• Process: Key reactions that happen when vegetables or supporting ingredients are cooked.
• Pairing: Matching vegetables with flavorings to accentuate their qualities.
• Produce: Identifying key ingredients that make vegetables shine.

With surefire hits, such as Stuffed Eggplant in Curry and Coconut Dal, Spicy Mushroom Lasagna, and Vegetable Schnitzel, plus stunning photographs of nearly every recipe, Ottolenghi Flavor is the exciting, next-level approach to vegetable cooking that Yotam's fans, home cooks of all levels, and vegetable lovers everywhere have been craving.
---