Grow your cookbook collection and stock your pantry!
Join other cookbook lovers and subscribe now to receive a curated box delivered to your door once per quarter. Get one recently released cookbook, along with five or more full-sized specialty ingredients carefully chosen to complement your new cookbook. Each quarterly box costs $85 and includes free shipping.


The Baking Box: for the creative cook whose favorite medium is flour
The Baking Box features cookbooks covering a range of baking topics—cookies, cakes, bread, pies, and pastries. Paired products will help you build your baking pantry.
FEATURED BOOKS
Fall - Nadiya Bakes by Nadiya Hussain, shipping now (note: photo shows an incomplete bundle, see full contents list below)
Winter - Baking With Dorie, our winter season begins 12/1, but we'll make bundles available in October for those who want the book as soon as it is available.
Prefer to prepay or giving as a gift? See our Gift Subscriptions page.
FALL 2021 - SHIPS 9/1
NADIYA BAKES: OVER 100 MUST-TRY RECIPES FOR BREADS, CAKES, BISCUITS, PIES, AND MORE
by Nadiya Hussain
The host of the beloved Netflix series Time to Eat and Nadiya Bakes and winner of The Great British Baking Show returns to her true love, baking, with more than 100 delicious, Americanized recipes for sweet treats.
When Nadiya Hussain, the UK's "national treasure," began cooking, she headed straight to the oven–which, in her home, wasn't used for baking, but rather for storing frying pans! One day, her new husband asked her to bake him a cake and then… she was hooked! Baking soon became a part of her daily life.
In her newest cookbook, based on her Netflix show and BBC series Nadiya Bakes, Nadiya shares more than 100 simple and achievable recipes for cakes, cookies, breads, tarts, and puddings that will become staples in your home. From Raspberry Amaretti Biscuits and Key Lime Cupcakes to Cheat's Sourdough and Spiced Squash Strudel, Nadiya has created an ultimate baking resource for just about every baked good that will entice beginner bakers and experienced pastry makers alike.
Box contents include:


Nadiya Bakes cookbook
Cooks Vanilla Bean Paste (not pictured)
Pure Indian Food Alphonso Mango Puree
Seed + Mill Tahini
Nielsen-Massey Pure Almond Extract (not pictured)
Spicewalla Star Anise (not pictured)
Wadaman Toasted Black Sesame Seeds
SUMMER 2021
BREAD TOAST CRUMBS: RECIPES FOR NO-KNEAD LOAVES & MEALS TO SAVOR EVERY SLICE
by Alexandra Stafford
Alexandra Stafford grew up eating her mother's peasant bread at nearly every meal—the recipe for which was a closely guarded family secret. When her blog, Alexandra's Kitchen, began to grow in popularity, readers started asking how to make the bread they'd heard so much about; the bread they had seen peeking into photos. Finally, Alexandra's mother relented, and the recipe went up on the internet. It has since inspired many who had deemed bread-baking an impossibility to give it a try, and their results have exceeded expectations. The secret is in its simplicity: the no-knead dough comes together in fewer than five minutes, rises in an hour, and after a second short rise, bakes in buttered bowls.

After you master the famous peasant bread, you'll work your way through its many variations, both in flavor (Cornmeal, Jalapeno, and Jack; Three Seed) and form (Cranberry Walnut Dinner Rolls; Cinnamon Sugar Monkey Bread). You'll enjoy bread's usual utilities with Food Cart Grilled Cheese and the Summer Tartine with Burrata and Avocado, but then you'll discover its true versatility when you use it to sop up Mussels with Shallot and White Wine or juicy Roast Chicken Legs. Finally, you'll find ways to savor every last bite, from Panzanella Salad Three Ways to Roasted Tomato Soup to No-Bake Chocolate-Coconut Cookies.
Box contents include:


Bread Toast Crumbs cookbook with a signed bookplate by Alexandra Stafford
Hayden Flour Mills Heritage Grain Bread Flour
La Tourangelle Garlic Oil
SAF Instant Yeast
Acetaia Leonardi Francobolli White Balsamic Condiment
New York Shuk Za'atar
A trio of seeds - Pumpkin, Sesame, and Sunflower
SPRING 2021 – SHIPPING 3/16/21
ZOË BAKES CAKES: EVERYTHING YOU NEED TO KNOW TO MAKE YOUR FAVORITE LAYERS, BUNDTS, LOAVES, AND MORE
by Zoë François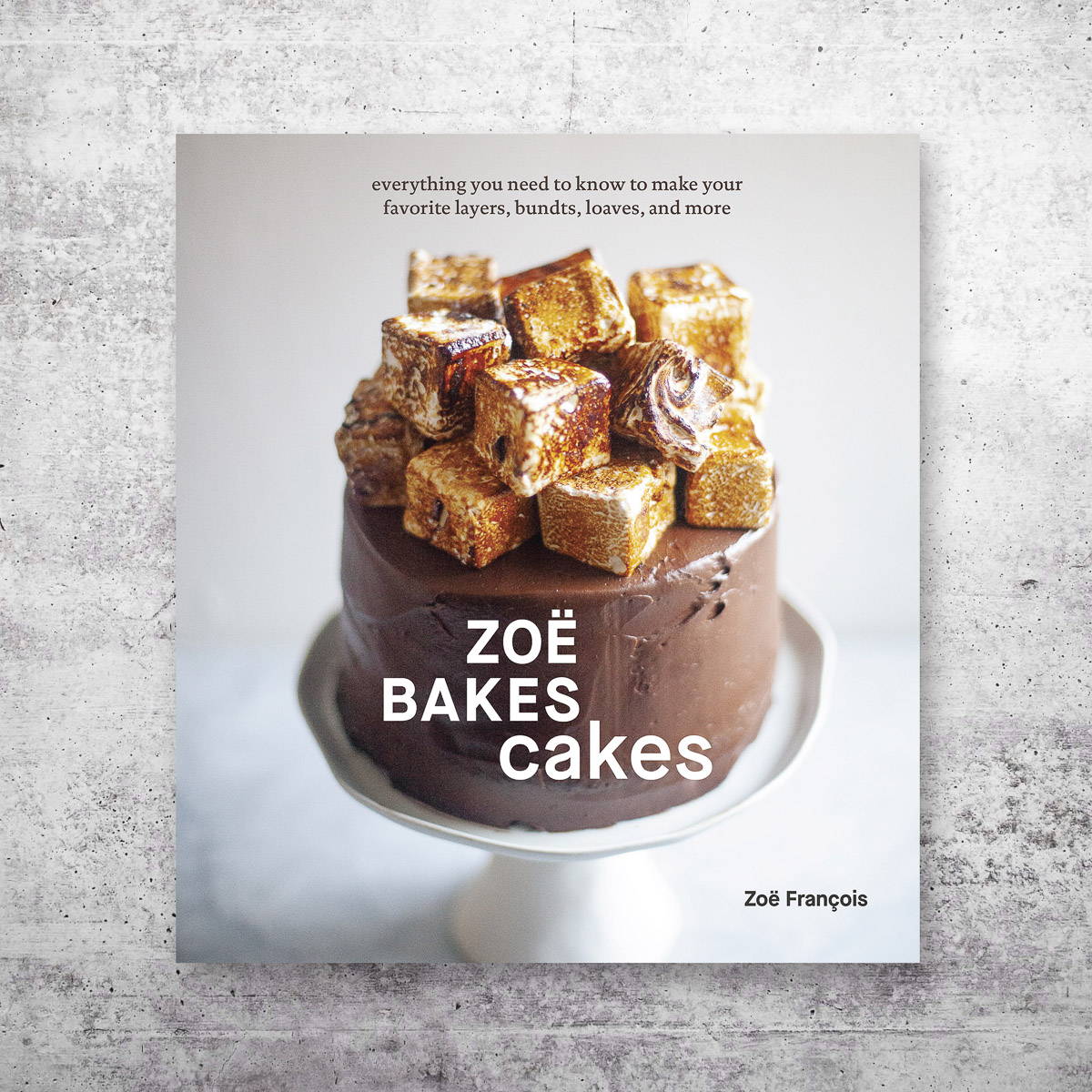 Best-selling author Zoë François offers a masterclass in cake baking in her latest cookbook. She'll guide you through essential techniques with step-by-step photographs to help you hone your craft and make brag-worthy creations. Recipes range from simple (Banana Bread with Swirls of Nutella) to celebratory (Raspberry Chocolate Royale), and each offers a reference to the previous techniques so you'll be able to quickly recall what you've learned and bake perfect cakes every single time.
Box contents include:
Zoë Bakes Cakes cookbook
Guittard Bittersweet Baking Wafers
Hayden Flour Mills Heritage Grain Semolina Flour
Nielsen-Massey Orange Blossom Water
Nielsen-Massey Madagascar Bourbon Pure Vanilla Extract
India Tree Organics Caster Sugar
Odense Marzipan
Offset Spatula
Icing Comb
★ ★ ★ ★ ★
"So impressed with the ingredients and the gorgeous cookbook! Can't wait to try some of the recipes! Also very excited what our next box might bring!"
Sarah P.
★ ★ ★ ★ ★
"Incredibly well put together and thought out Subscription box. Especially for those looking to diversify their cookbook collection and pantry shelves!"
Kendall D.
★ ★ ★ ★ ★
"My Hardcover Cook subscription has been great! The food items are nice and are adding new flavors to my pantry. And I never thought I'd make Japanese cuisine — it seemed out of reach, but this box made it feel approachable (and it turns out, it is!). I look forward to the next one."
Rae T.
Add fresh titles to your bookcase.
Each quarterly box will contain one recently released cookbook, along with ingredients that pair with your new book.
Save yourself a trip
to the specialty store.
Your box will contain five or more artisanal ingredients selected to enhance your experience with the book.
BOXES DELIVERED
EVERY 3 MONTHS
A new assortment delivered to your door.
Cook your way through each cookbook for an entire season then receive a new box, right on schedule.
Your price is $85 per quarterly box and includes free shipping.
You will be charged for your first box at the time of sign-up. Subsequent charges will be initiated every three months. You will receive an email notification to alert you a few days before your card is charged. Skip, swap, pause, or cancel your subscription at any time. Make changes on the "manage subscriptions" button on your account page.
New boxes become available during the following months. We'll email you ahead of time to let you know what to expect and when.
Spring Boxes: Starts shipping March 1st

Summer Boxes: Starts shipping June 1st

Fall Boxes: Starts shipping September 1st

Winter Box: Starts shipping December 1st
*Hardcover Cook provides a subscription service. By subscribing to our service, you have confirmed that you accept our Terms of Service. Your membership will automatically renew on a recurring basis, at which time your credit card will be charged automatically for the subscription products, including applicable taxes, until you cancel your membership. You may cancel your membership at any time by logging in to your account, selecting Manage Subscriptions, View Details, then clicking Cancel Subscription button at the bottom of the page.