THE COOKBOOK PANTRY PODCAST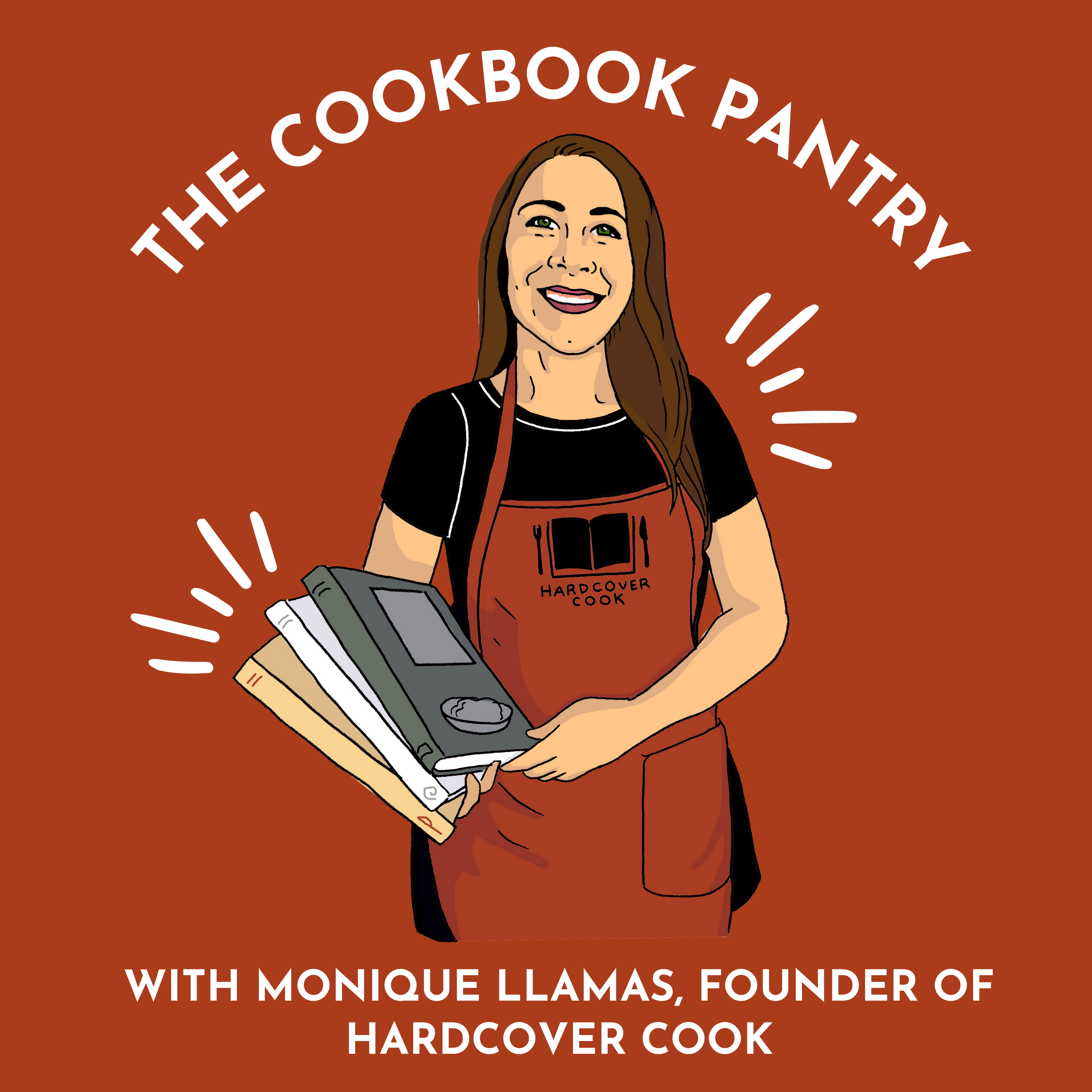 The Cookbook Pantry with Monique Llamas, Founder of hardcovercook.com. At Hardcover Cook, our mission is to expand your pantry and help you cook your way through your growing cookbook collection. Let's explore together!
---
In this episode, Monique Llamas, host of The Cookbook Pantry, interviewed Salt & Spine podcast host Brian Hogan Stewart and renowned author specialty food importer Rolando Manicaretti to talk about the Winter 2021 Omnivore Box. Learn about grains, legumes, pantry staples and why Brian can't get enough of Grist in this double-interview episode!
The winter 2021 Omnivore Box:
Get the most out of Grist: A Practical Guide to Cooking Grains, Beans, Seeds, and Legumes with a bundle filled with ingredients that will have you cooking from the book! Add new flours, grains, and seeds to your pantry plus an Italian extra virgin olive oil that pairs wonderfully with beans and lentils.
Links from the Episode
Grist Cookbook + Ingredient Bundle
Salt + Spine Podcast Interview with Abra Berens
Buy Tickets fo the Salt + Spine Dinner Party with Abra Berens
Manicaretti Italian Food Importers
Listen on Spotify, Apple Podcasts, Pocket Casts, Buzzsprout, or your favorite podcast app.
February 25, 2022
In this special Valentine's day episode, Monique chats with #getcookingcookbookclub co-hosts Bebe Carminito and Steph Whitten. You'll hear all about their adventure baking along with Dorie Greenspan through her lastest book, Baking With Dorie, and learn more about the adventurous world of Instagram cookbook clubs.

Next, Monique interviews Amy Guittard, head of marketing at Guittard Chocolate Company and a fifth generation chocolate maker. Amy shares her passion for cocoa and chocolate nestled in between stories from growing up in a chocolate family. It's a treat for everyone!
Buy the Baking Box. This bundle includes a book signed by Dorie, along with an assortment of ingredients to help you explore the book and adopt Dorie's playful spirit (Star-shaped sprinkles! Cookie spread!)
Links from the Episode
#Getcookingcookbookclub on Instagram
@awhiskandaspoon on Instagram and Steph's blog https://awhiskandaspoon.com/
@champagheandcookies on Instagram
Chocolate 101 on Guittard.com
Chocolate Handling and Tempering on Guittard.com
Guittard Chocolate Cookbook on ckbk 
Listen on Spotify, Apple Podcasts, Pocket Casts, Buzzsprout, or your favorite podcast app.
February 14, 2022
In this episode, Monique Llamas, founder of Hardcover Cook and host of The Cookbook Pantry podcast interviewed Betty Liu, author of the critically-acclaimed cookbook, My Shanghai 

Hardcover Cook has partnered with Betty Liu, to curate a special ingredient bundle to help celebrate the Lunar New Year. Betty invites you to experience her family tradition of making sweet and savory rice balls with this ingredient bundle.

In the episode, Betty describes learning how to make rice balls from her mother and shares secret family tips, tricks and memories.
Buy the special My Shanghai Tāng Yuán Lunar New Year bundle.

In this bundle, you'll get seven essential pantry ingredients for making the Tāng Yuán (and many other recipes from her cookbook), along with printed recipes for "Sticky Rice Balls Three Ways". Fill them with meat filling, sesame filling, or greens filling.
Connect with Betty Liu on Instagram.
Join the Hardcover Cookbook Club Facebook group or post to Instagram using hashtag #hardcovercookbookclub and tag @hardcovercook. Share photos and notes of recipes you've made, share your wins or challenges with the featured ingredient, ask questions or make recommendations, and support others in the group.
Listen on Spotify, Apple Podcasts, Pocket Casts, Buzzsprout, or your favorite podcast app.
January 28, 2022
In this Season One special bonus episode, Monique talks to Jenny Hartin, Director of Publicity for Eat Your Books and founder of the Facebook group: The Cookbook Junkies.

Eat Your Books is a website for people who love cookbooks and love to use great recipes. If you have a cookbook collection, you probably get a lot of pleasure from browsing your books - but there are times when you haven't got time to look through them all to find a recipe. Or maybe you feel you're not using them as effectively as you'd like, sticking to familiar recipes or not branching beyond the current favorites.
Eat Your Books can help you find recipes in seconds - we're the only website to have indexed the most popular cookbooks, so you can include them in your online searches.You might also like to use recipes from other sources and with Eat Your Books you can do a single search across ALL your recipes, no matter where they are.
Additional links:
https://www.facebook.com/cookbookjunkies
https://www.facebook.com/groups/eatyourbookscookbookclub

Fall Book preorders: https://www.hardcovercook.com/collections/fall-2021-cookbook-preorders/Preorder
Listen on Spotify, Apple Podcasts, Pocket Casts, Buzzsprout, or your favorite podcast app.
September 21, 2021
Cook This Book is a new kind of foundational cookbook from Molly Baz, who's here to teach you absolutely everything she knows and equip you with the tools to become a better, more efficient cook.

Molly breaks the essentials of cooking down to clear and uncomplicated recipes that deliver big flavor with little effort and a side of education, including dishes like Pastrami Roast Chicken with Schmaltzy Onions and Dill, Chorizo and Chickpea Carbonara, and of course, her signature Cae Sal. But this is not your average cookbook. More than a collection of recipes, Cook This Book teaches you the invaluable superpower of improvisation though visually compelling lessons on such topics as the importance of salt and how to balance flavor, giving you all the tools necessary to make food taste great every time. Throughout, you'll encounter dozens of QR codes, accessed through the camera app on your smartphone, that link to short technique-driven videos hosted by Molly to help illuminate some of the trickier skills.

To subscribe to the Hardcover Cook Essentials Box: https://hardcovercook.com/products/essentials-box

More resources for this episode:
Listen on Spotify, Apple Podcasts, Pocket Casts, Buzzsprout, or your favorite podcast app.
September 21, 2021
For bestselling cookbook author Hetty McKinnon, Asian cooking is personal. McKinnon grew up in a home filled with the aromas, sights, and sounds of her Chinese mother's cooking. These days she strives to recreate those memories for her own family—and yours—with traditional dishes prepared in non-traditional ways. It's a sumptuous collection of creative vegetarian recipes featuring pan-Asian dishes that anyone can prepare using supermarket ingredients.
Readers will learn how to make their own kimchi, chilli oil, knife-cut noodles, and dumplings. They'll learn about the wonder that is rice and discover how Asian-inspired salads are the ultimate crossover food. McKinnon offers tips for stocking your modern Asian pantry and explores the role that sweetness plays in Asian cultures. Her recipes are a celebration of the exciting and delicious possibilities of modern Asian cooking—from Smashed Cucumber Salad with Tahini and Spicy Oil, and Finger-lickin' Good Edamame Beans with Fried Curry Leaves, to Springtime Rolls with Miso Kale Pesto and Tamarind Apple Crisp. Featuring big, powerful flavours created from simple, fresh ingredients, these recipes are firmly rooted in the place where east meets west and where tradition charts the journey to the modern kitchen.

To subscribe to the Hardcover Cook vegetarian subscription box: https://hardcovercook.com/products/vegetarian-subscription-box

Resources for this show:
Listen on Spotify, Apple Podcasts, Pocket Casts, Buzzsprout, or your favorite podcast app.
September 21, 2021
In this episode listeners get a peek inside the summer Baking Box, which features the cookbook Bread Toast Crumbs by Alexandra Stafford. With praise from Dorie Greenspan, Jim Lahey, and David Lebovitz, it's the definitive bread-baking book for a new generation. But this book isn't just about baking bread—it's about what to do with the slices and heels and nubs from those many loaves you'll bake.

After you master the famous peasant bread, you'll work your way through its many variations, both in flavor (Cornmeal, Jalapeno, and Jack; Three Seed) and form (Cranberry Walnut Dinner Rolls; Cinnamon Sugar Monkey Bread). You'll enjoy bread's usual utilities with Food Cart Grilled Cheese and the Summer Tartine with Burrata and Avocado, but then you'll discover its true versatility when you use it to sop up Mussels with Shallot and White Wine or juicy Roast Chicken Legs. Finally, you'll find ways to savor every last bite, from Panzanella Salad Three Ways to Roasted Tomato Soup to No-Bake Chocolate-Coconut Cookies.

Bread, Toast, Crumbs is a 2018 nominee for The IACP Julia Child First Book Award, and Alexandra's Kitchen was a finalist for the Saveur Blog Awards Most Inspired Weeknight Dinners 2016

The Hardcover cook Baking Box includes Bread Flour from Hayden Flour Mills, and in this episode Monique interviews Emma Zimmerman of Hayden Flour Mills to find out more about the mill, the flour and products it produces and why just a half a cup of "real flour" can be a life changing baking experience.
Listen on Spotify, Apple Podcasts, Pocket Casts, Buzzsprout, or your favorite podcast app.
August 15, 2021
Listen to Hardcover Cook Founder Monique Llamas talk about why she loves this summer's Omnivore Box and interviews Ori Zohar, co-founder of Burlap & Barrel. Ori takes us behind the scenes of the global spice trade and shares tips for making the most of their single-origin spices when cooking with this season's Omnivore box book: Ripe Figs by Yasmin Kahn. Fully accessible for the home cook, with stunning food and location photography, Ripe Figs is a dazzling collection of recipes and stories that celebrate an ever-diversifying region and imagine a world without borders. Box contents include: Ripe Figs cookbook, a trio of spices from Burlap & Barrel, Daphnis & Chloe Wild Thyme Flowers, Just Pomegranate Molasses, Rustichella d'Abruzzo Orzo, Jacobsen Salt Co. Raw Wildflower Honey, Bulgur.
Listen on Spotify, Apple Podcasts, Pocket Casts, Buzzsprout, or your favorite podcast app.
July 1, 2021
---
Share photos of your cookbook discoveries and new pantry finds on Instagram with hashtag #hardcovercook (tag @hardcovercook too!), join a discussion on Facebook, or save a pin for later:
To keep up with the latest product offerings, updates, and promotions subscribe to the Hardcover Cook Newsletter, drop your email into the box below. 👇🏼